We are thrilled to announce that Changing Tides won the Hubert Evans Non-Fiction Prize at the BC and Yukon Book Prizes.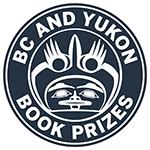 The BC & Yukon Book Prizes mission is to recognize and promote the achievements of the book community in BC and Yukon through the BC Book Prizes and related programs.
GOLD in the Hubert Evans Non-Fiction Prizes
Changing Tides: An Ecologist's Journey to Make Peace with the Anthropoceneby Alejandro Frid
In Changing Tides, Alejandro Frid, an ecologist working with Indigenous people, argues that a merger of scientific perspectives and Indigenous knowledge might just help us change the story we tell ourselves of who we are — of who we can be — and steer us towards a more benign Anthropocene.
Additional Awards won by Changing Tides
Gold
Ocean Wise Research Institute Ocean Awards, 2020

Silver
Nautilus Book Awards, 2020 - Ecology & Environment

See all New Society Publishers award winning books