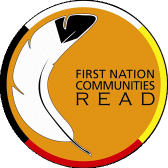 First Nation Communities Read Program Objectives
Through title selections, other recommendations, and creators' tours, in First Nation communities and beyond, First Nation Communities Read:
encourages family literacy, intergenerational storytelling, and intergenerational information sharing;

increases awareness of the relevance and importance of First Nation, Métis, and Inuit writing, illustration, and publishing;

promotes the publication, sharing, and understanding of First Nation, Métis, and Inuit voices and experiences;

increases awareness and sales of the titles it honours.
Indigenomics: Taking a Seat at the Economic Table by Carol Anne Hilton
Indigenomics lays out the tenets of the emerging Indigenous economy, built around relationships, multigenerational stewardship, and care for all. Includes voices of leading First Nations business leaders. Powerful reading for business leaders, policymakers, and economists.