Today's blog features an interview with Eric and Callene Rapp, authors of the just released book Homestead Cows: The Complete Guide To Raising Healthy, Happy, Cattle. It includes the winning question from last week's giveaway!
1. How can cattle fit into the farm?

Cattle can fit into the farm in a variety of ways, with meat and milk, and also occasionally draft power! They can also help improve pasture, by grazing and depositing fertilizer throughout the pasture.
2. What are the basics needed for good husbandry?

One of the most important basics needed for good animal husbandry, no matter what species, is attention to detail. Learning what is normal for your cow and when things just look different can go a long way to keeping your animal healthy. No one has all the answers, but paying attention and not being afraid to ask questions and dig for answers will help you as much as anything!
One of the neat things about cattle is that there are so many breeds to choose from, there is literally a breed for every farm, situation, and individual. If your goal is lots of milk, choose one of the larger dairy breeds like Guernsey or Jersey. If you want meat, Angus is the poster breed for meat production. If you have only a small acreage, and want a little of both, choose one of the smaller breeds such as Dexter or Pineywoods. The biggest thing is to be honest with yourself about your experience, goals, and resources. There is a breed out there that will work for you!
Winning Giveaway Question
How would you recommend approaching low stress management of shipping? (Entire herd for grazing, and also final steers for processing)

One of the biggest stressors for cattle being shipped is distance. Studies show the stress level increases rapidly after a few hours, so whenever possible, ship as close to home as you can. In fact, cattle are required to only be on a truck for 28 hours before they have to be unloaded. Stress can make animals vulnerable to disease, so make sure your trailer is well ventilated and clean to reduce exposure to pathogens. When loading cattle, have a good, safe chute and pen set up so cattle don't have to be chased and get worked up prior to loading, and that there isn't anything in the pen or chute that can spook them.
---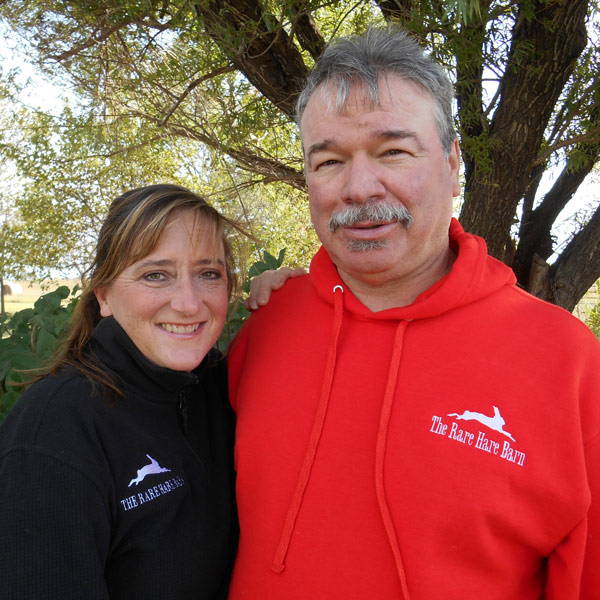 Authors Callene and Eric Rapp
Callene Rapp and Eric Rapp have owned and operated the award-winning Rare Hare Barn since 2005, the largest heritage-breed meat-rabbit enterprise in the United States. In addition to their conservation work with rabbits, they have a large herd of heritage-breed Pineywoods cattle, and work with the critically endangered Palmer-Dunn strain. Callene has also worked with a variety of cattle breeds at the Sedgwick County Zoo, and Eric has had experience with his family's own cow-calf operation. They have over 50 years of combined experience handling nearly every species of domestic livestock and are active members of the Livestock Conservancy. Callene is also a regular contributor to Grit Magazine. Authors of Raising Rabbits for Meat, they live and farm in Leon, Kansas.