* excluding pre-order and New Catalyst titles
Much of the last few years has been talking about getting back to normal. But what if we strived to get back to something better than what we had? In The Edible Ecosystem Solution, Zach Loeks provides a practical guidebook that looks at underutilized spaces to reveal the many opportunities for landscape transformation that are both far-reaching and immediately beneficial and enjoyable. Today we share an excerpt from his book that looks at how land, people, and culture could change for the better.
Rather than focusing on being green or not green, pro-industry, or against, we can focus on regenerative edible ecosystems services. Yet, the long-term stability of edible ecosystems depends on ecological land-planning, maintenance, and policy. And this, in turn, depends on our cultural values, which ultimately govern personal, community, and political decision-making. Without a cultural shift to global understanding, respect, and prioritizing of sustainable ecosystem management, we may slip back into the doldrums, deficits, and dangers of unsustainable, extraction-based socio-economics and the culture that supports it. Human culture has always been formed from the land. The land—the environment, the ecosystems we interacted with as early people—changed us. It tested us, inspired us, beckoned us to taste, care for, and breed its rich abundance. We prospered and designed. We can merge this ancestral tendency and our modern knowledge to bring about a new paradigm of community well-being and societal resilience.
The Value of Use or Exchange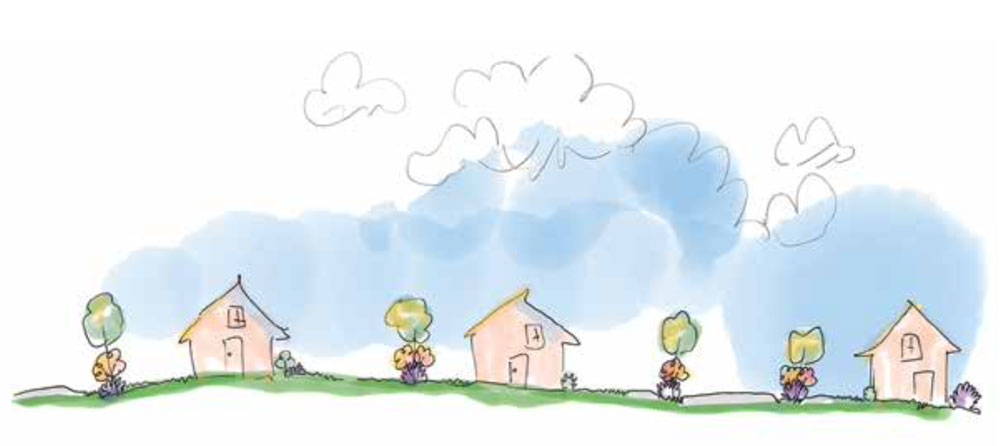 It is worth understanding "value" better because our society must appreciate ecosystem services holistically in order to support them directly. This can be analyzed from two sides: the value of use (we enjoy a livable planet) and the value of exchange (we buy and sell goods). Although we use much of what we exchange (eating the food we buy), we don't always buy what we use (breathing air, drinking water, enjoying livable temperatures). Therein lies the rub, for we often degrade natural capital through the industry of exchange and so harm our use of ecosystem goods and services that are critical, but not bought or sold.
For instance, our global food system is dependent on monoculture agriculture, long-distance shipping, and toxic inputs that impact biodiversity. Essentially, the conditions of a livable planet (air, water, temperatures, ecological productivity) are mostly free, yet our current socio-economic model limits the long-term truth of this statement because of pollution, ecosystem degradation, and biodiversity loss.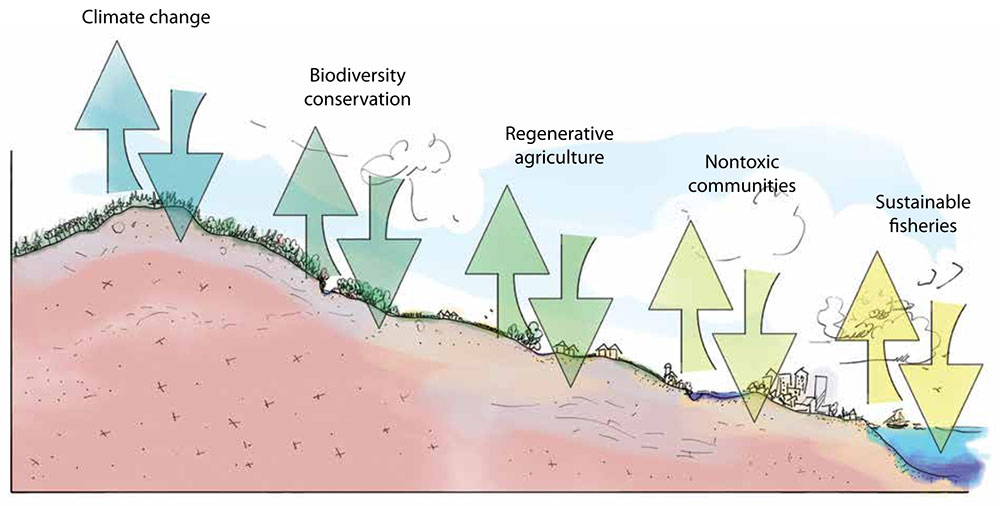 Understanding ecosystem services has been at the forefront of science for several decades. The services ecosystems provide us have been valued at billions of dollars. They are immeasurably necessary to societal success and resilience in the face of the socio-economic and environmental changes the world will continue to face in this century. Every spot of suburban yard, urban boulevard, and acre of farm country contributes to the local, regional, and global ecosystem services we benefit from. Yet, there is still underutilized, uniform, and organized land to implement ecosystem design efficiently within our cultural landscape. There are benefits to find in every biome and every region, and in every spot that a steward will make a stand in and plant an ecosystem spot.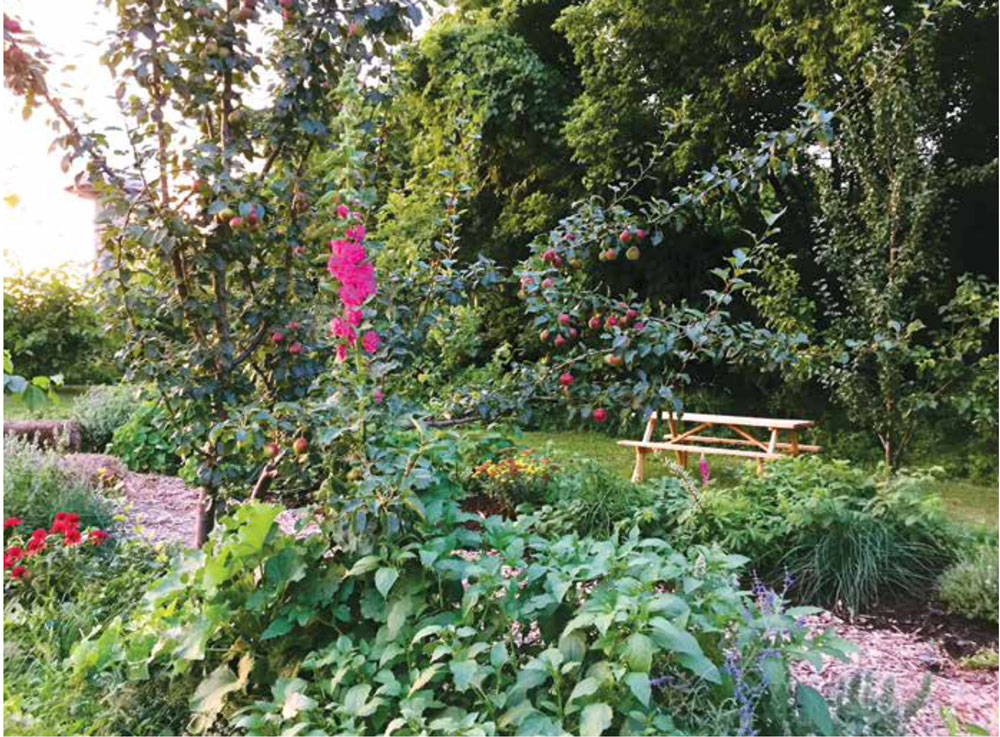 We need to see a shift toward increasingly valuing ecosystem use (like clean air) at the same time as prioritizing ecosystem exchange (such as local fruit) over other economic activity. For instance, edible hedges in our neighborhoods could be understood and valued for the far-reaching, multi-purpose, and resilient benefits they provide. At the same time, we also need to prioritize increasing the value of the exchange of ecosystem services over other cultural services; essentially, we must rebuild an ecosystem economy. Designing these edible hedges and entire communities to have pathways to profit from their ecosystem services will keep them front and center in land-use planning over other demands for community space. The demand for local, niche, and specialty food, eco-experiences, and other products and services that edible ecosystems can provide is key to improving the exchange value of edible ecosystem landscapes. The tourist value, for instance, of the first truly edible city will be mind-boggling!
How do we bring about this shift? Again, we can look to natural principles and our evolution in ecosystems as a viewfinder for how to achieve cultural change. Our ancestral experiences within ecosystems are the source of land transition catalysts which fundamentally helped form our cultural landscapes and who we are today. By marrying these origin facts with our modern understanding of ecosystem services, we can let the land lead us again, but this time we need to shift to a new socio-economic paradigm. What better point to lead an ecosystem renaissance than by transitioning our cultural landscape until it reaches a sufficient scale of biodiversity to transform our culture? Little by little, one spot at a time, we can begin the journey. The land will be so irresistible it will cause people to change to a new cultural understanding. Be ambitious and make your mark. It is a worthwhile project to transition a spot of land!
As the land transitions to edible ecological abundance, people will begin to change. As flowers bloom, people will smell them; as berries ripen, people will taste them; as the leaves change and fall, people will see them. As the land evolves and increases in abundance, people will harvest, share, and store it. Ecosystems will provide benefits to humans where they live. We will grow healthier from the nutrition, the activity, the community. We will care for the land. Our air and water will become cleaner, and we will be better for it. There will be change in human health: lower anxiety in diversified greenspaces at work, improved childhood intelligences from edible schoolyards, and enhanced nutrition in communities of all kinds. As the land changes, people change.
As people change, culture is transformed. Culture is the threshold of our society's home on Earth—it is how we frame our "understanding of things" over generations. With this transformation we will celebrate seasonal abundance, value the services of the ecosystem communities, and maintain their functioning purposefully. We will appreciate the farmers who feed us from their diverse farms, building soil, conserving carbon, and investing in our truly sustainable future. Our cultural values will cement the edible ecological landscape around us through sound long-term land planning, management, and policy. People will secure their ecosystems through more green jobs, valued ecological healthcare, and the recognition of resilience as fundamentally bound to biodiversity. Our culture is transformed through each generation that grows up with a biodiversity perspective and priority.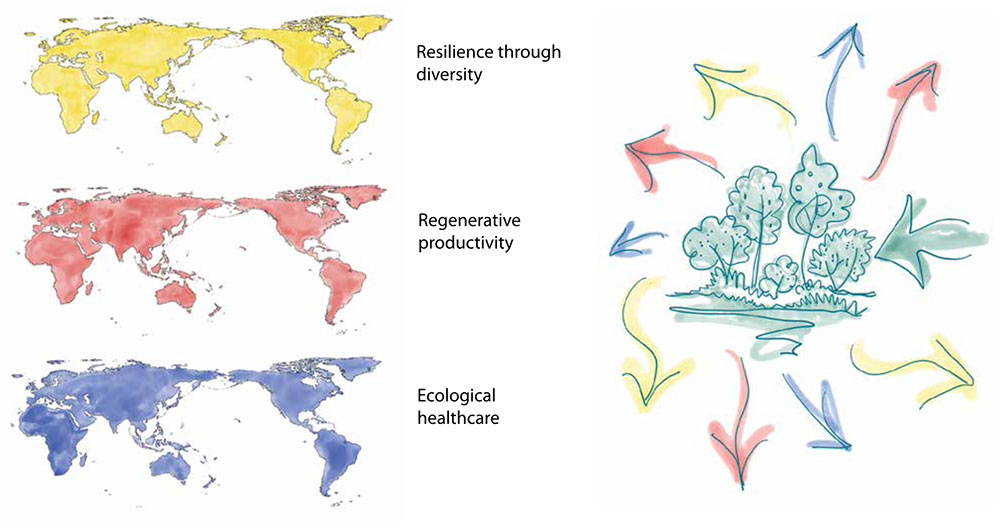 So, we transition land to change people and thus transform our society to an ecosystem culture—one that is edible, biodiverse, resilient, profitable, and healthy. This cultural transformation has two main aspects. First, the benefits of ecosystem goods and services are near-to-home. People live better lives when they live immersed in ecological spaces and have full access to multifunctional and sustainable wealth and well-being. Secondly, ecosystem cultures sustain habitats through direct investment in ecosystem services. Society is resilient through diversity; our economy upholds regenerative productivity, and human well-being is saturated in ecological healthcare.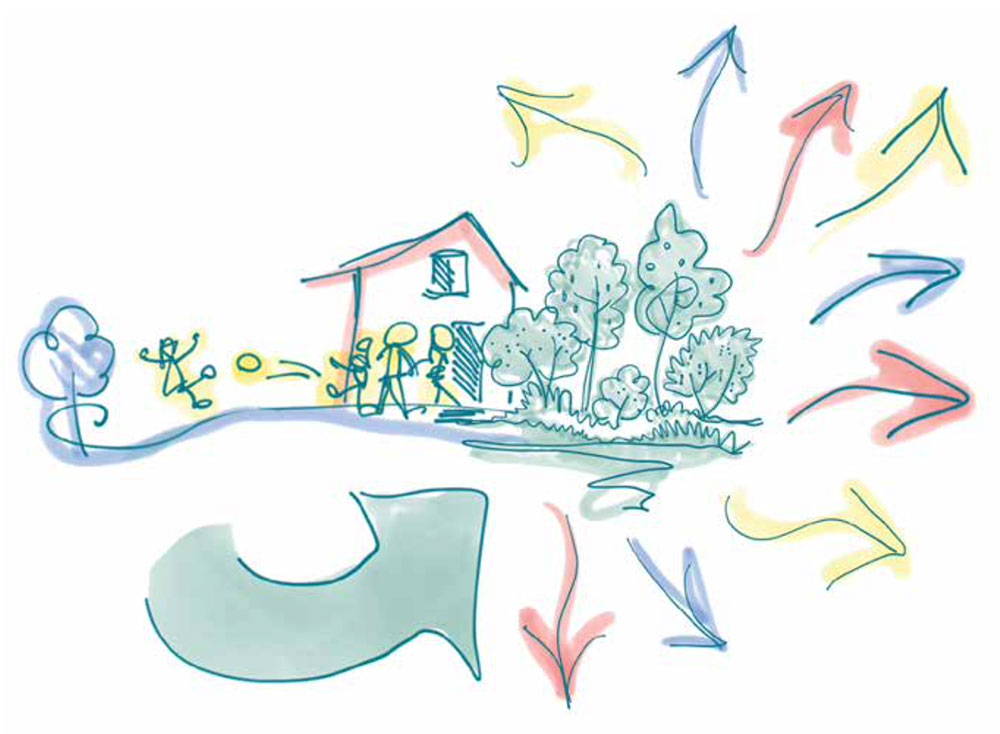 It is no longer enough to assume that ecosystem services will always be there. Remember, we have left the planet's ecological grace period, and, at the current rate of biodiversity loss and ecosystem degradation, we are jeopardizing planetary life-support systems. Let's not misunderstand—the Earth will persevere, life will persist, evolution is a constant—the question is this: what about humanity? Will we persevere? And more importantly, what is the quality of life in our near future and for generations to come? Our ecological wealth and well-being are at risk now, and the benefits are ours to be had now. People, young and old, can take up arms through direct landscape action—a tree, and herb, and ecosystem spot.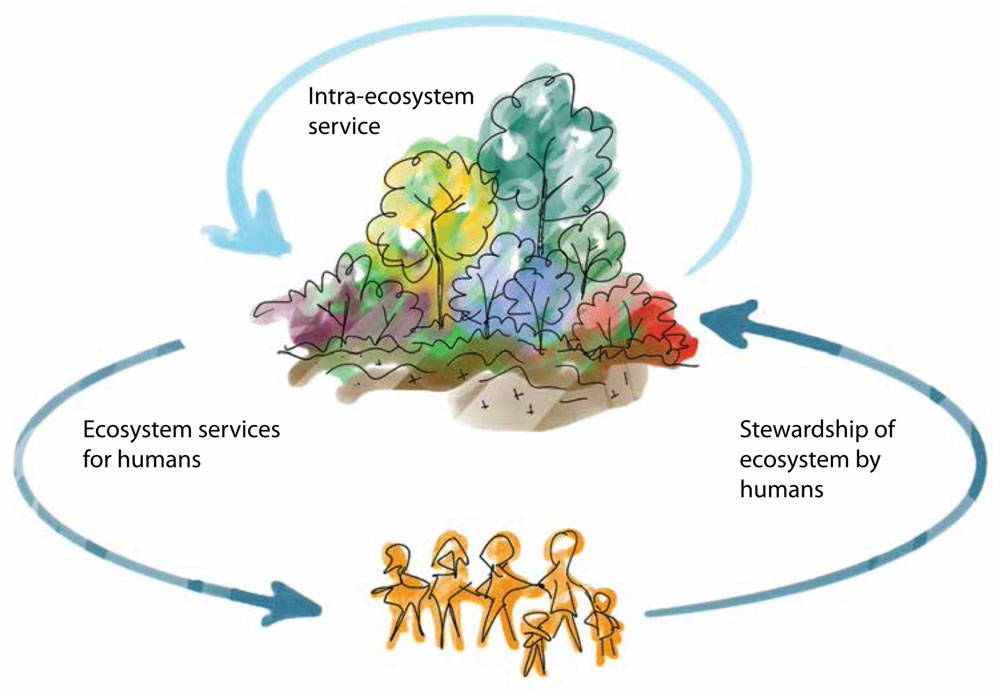 Now is the time to expand the understanding of ecosystem services and see how we can support our valuable ecosystems. Our relationship with ecosystem services can be seen as three-fold:
1) Services are provided by ecosystems,
2) Services are provided to ecosystems, and
3) Services are provided within an ecosystem.
We need to rebuild ecosystem integrity and so improve our societal success and resilience.
There are three key ways we can provide services for ecosystems in our modern landscape:
1) Diversify current greenspaces
2) Increase the accessibility of ecosystem services through integrating and connecting landscapes so people can enjoy and maintain them.
3) Create more greenspaces overall.
Essentially, we need more biodiverse, accessible ecosystem landscapes. With EPI, we do this directly by creating edible ecosystem landscapes that conserve biodiversity, find solutions for land use, and catalyze the transition of underutilized spaces in our communities.
If you are interested in this title or any of our other titles, you are in luck… Our holiday sale is running from November 15, 2021 to November 24, 2021! All New Society Publishers titles* are 50% off use code Book50 at checkout! Shop from the comfort of home, get ahead of your list, and give a gift that you can open again and again by shopping at our holiday sale this week.
* excluding pre-order and New Catalyst titles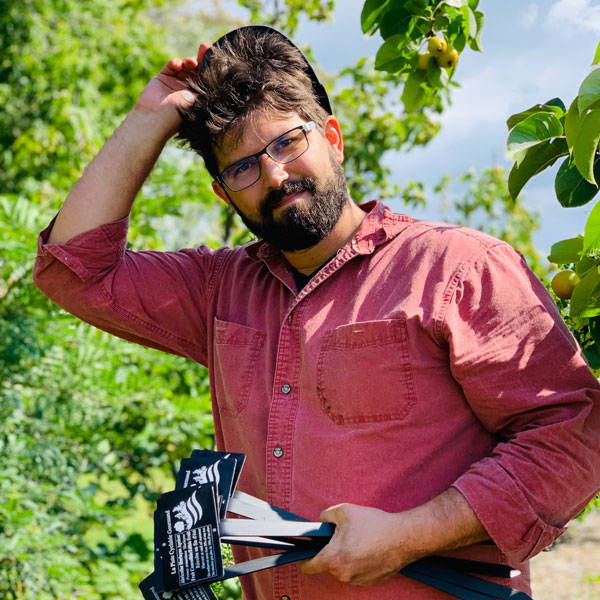 Zach Loeks is an award-winning educator, designer, author, consultant, and grower who specializes in Edible Ecosystem Design around the world. He is the director of the Ecosystem Solution Institute and author of The Permaculture Market Garden. He lives in Cobden, Ontario.