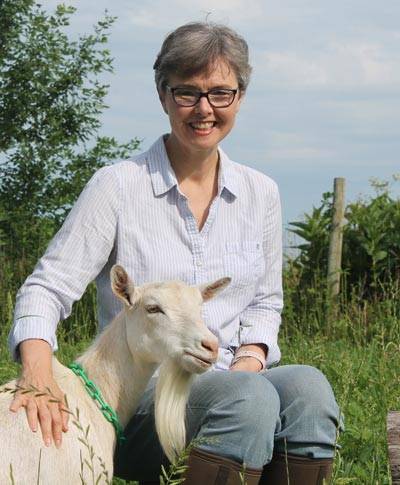 Lessons, stories, and reflections from the Goat Midwife Deborah Neimann, in her new book Goats Giving Birth: What to Expect during Kidding Season
Deborah Niemann and her family moved to the country in 2002, and soon 2 goats turned into 20, and a desire to make a simple chèvre launched a new career helping people raise goats. Deborah is the author of Homegrown and Handmade, Ecothrifty, and Raising Goats Naturally.
Excerpt from the Introduction
There is nothing about goat ownership that creates more anticipation, excitement, frustration, and fear than birthing. It's wonderful to walk into the barn one morning and see a couple of kids bouncing around and nursing. But it feels like you've been punched in the stomach when you walk in and see a distressed doe or a dead or malformed kid. If you've never seen a goat give birth before, you don't really know if something is normal or not. As a former childbirth educator and doula, I knew all about human birth, but I soon learned that goats are very different.
Only three months after I brought home my first goats in 2002, I became a member of several goat groups on Yahoo. Because I knew no goat owners, other than the woman who sold me the goats, the Yahoo groups filled the role that a knowledgeable neighbor or parent would have filled a century ago. Whenever something happened that worried me, I'd sign on and ask for help. There were always other goat owners out there in cyberspace who offered advice and encouragement.
Today there are also Google groups, Facebook groups, and a host of other groups. In 2009, I started my own group on Ning for owners of Nigerian dwarf goats (nigeriandwarfgoats.ning.com). Through the years, I have seen thousands of posts from goat owners all over the world, and I've noticed that kidding is the event that causes more anxiety than anything else.
So many people join an online group and post something like this:
We're new goat owners and awaiting the birth of our first kids! Anything we need to do or know? How do we know everything is going okay? What do we do if we have to help? Any advice is appreciated! Thanks!
They may also sign on and post something like this:
Our first goat has been in labor for two days, and we're worried!
What should we do?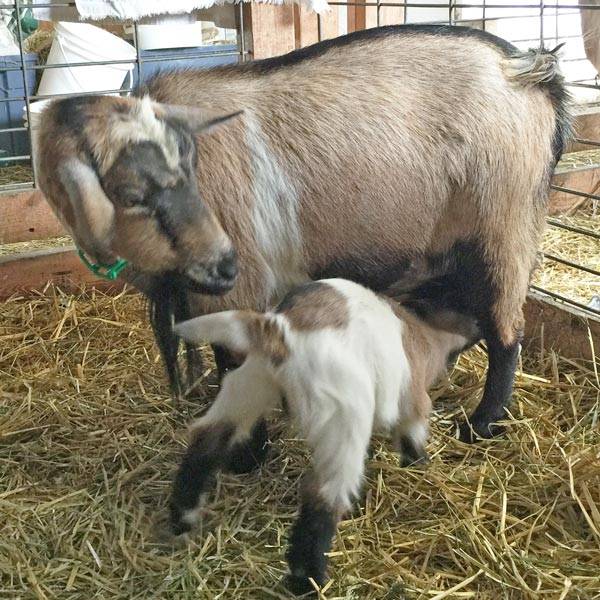 This book is part of the answer to those questions, but because every birth is different, it is also useful for those who are not new to kidding. In my book Raising Goats Naturally: The Complete Guide to Milk, Meat, and More, I explain all of the technical aspects of birthing goats. But most goat owners don't feel that information is enough preparation because there are so many exceptions to "normal" and so many of them are not problematic. Knowing textbook averages is not very helpful. The average length of time for the first stage of labor for a first freshener is twelve hours, but three hours is normal, and eighteen hours can also be normal. Just as some women are in labor for two hours and others for two days, goats can be different from one another.
When someone asks me if something is normal, my answer is almost always "It depends," and then I ask a dozen questions or more as I try to understand that particular situation. Every goat is unique, and every birth is different, even from one year to the next with the same doe. I have some goats that were born on this farm, gave birth for ten years and are now retired. Each birth was different even though they could usually be described as "normal."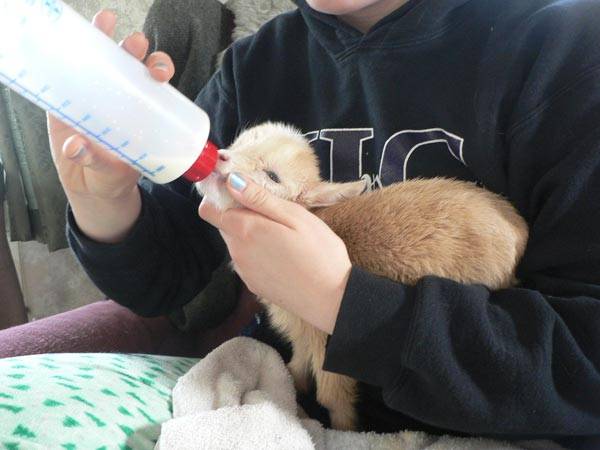 In this book, I share stories of my goats giving birth. I want to make my experience your knowledge — not because I've experienced everything but because the more you know, the more you realize you don't know. I describe the experiences bluntly and share my thoughts and fears and confusion at the time. The pictures, too, illustrate the reality of these births. My hope is that these stories will take the place of being at the birth and add to your knowledge base and confidence in yourselves but more importantly in your goats. When you're new, the big overarching fear is that your goats can't do it. You have to help — or even worse, you believe you have to save them. This is almost never true. According to Goat Medicine by Mary Smith and David Sherman, 95 percent of births require no assistance, and the longer I have goats the more I believe this number is accurate.