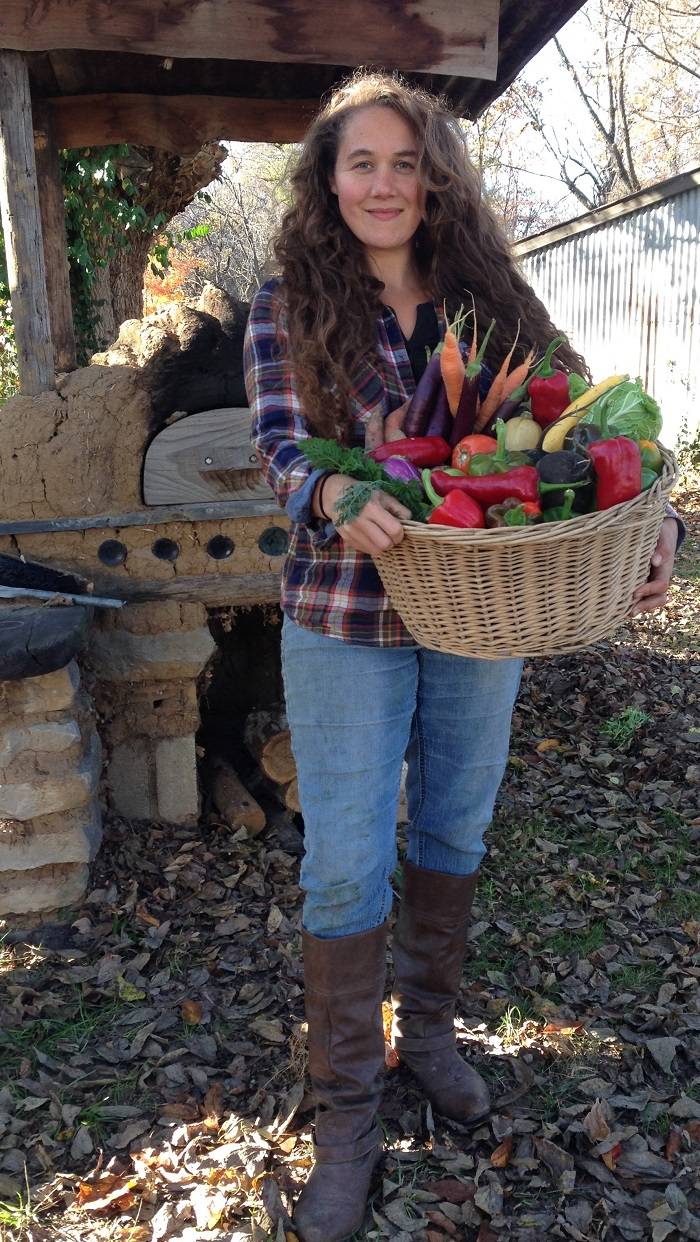 Your Edible Yard: Landscaping with Fruits and Vegetables by Crystal Stevens is a comprehensive how-to guide to turn your yard into a beautiful, bountiful feast. Today's excerpt offers a variety of landscape design ideas that maximize space, efficiency, and aesthetics. So instead of twiddling our thumbs waiting for spring, we can get inspired by all the design possibilities for yards of any size.
And don't forget to enter to win a copy of this book from Feb 20th- 25th on Facebook and Instagram. Follow us and post a question for the author and be entered to win!
Excerpt from Chapter 7: Edible Landscaping Designs
SIMPLE FRONT YARD EDIBLE LANDSCAPE
A simple edible landscape design could start as small as 6 plants or be as extensive as you desire. Factors to consider are the amount of time you have to dedicate to weeding, watering, and general maintenance. This example shows roughly 30 plants in a small space. The back layer closest to the house could contain a variety of dwarf fruit trees, such as apple, pear, and peach. The next layer, which should be shorter, could contain fruit-producing shrubs, such as goumi, gooseberry, currant, honeyberry, raspberry, and Nanking cherry. The front and shortest layer could contain vegetables, strawberries, herbs, and flowers.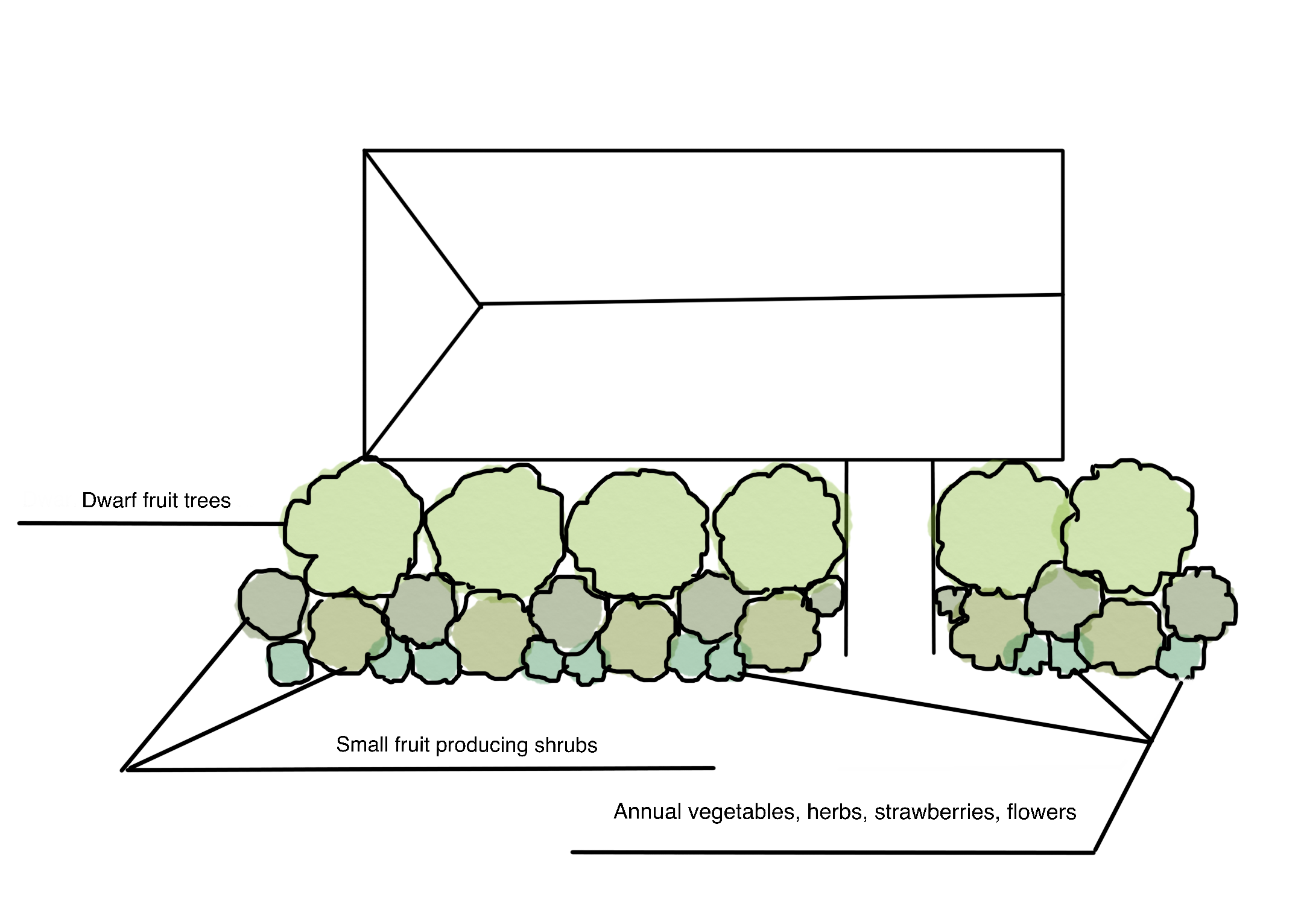 This image illustrates an extensive food forest planting in the backyard with various fruit trees, fruit-producing shrubs, perennial and annual vegetables, herbs, and pollinator-attracting flowers. The front landscape could contain dwarf fruit trees or fruit-bearing shrubs, perennial low-growing fruits such as strawberries, herbs, and flowers.
This concept drawing illustrates the variety of fruit trees, fruit-producing shrubs, low-growing fruits, herbs, and comfrey. A path is not included in this example. The designer could create a path that allows easy access to water and equipment. It could be linear or meandering, but I would recommend creating multiple paths in a food forest to reach the various trees and shrubs. This food forest is planted in an organic fashion modeled after a forest.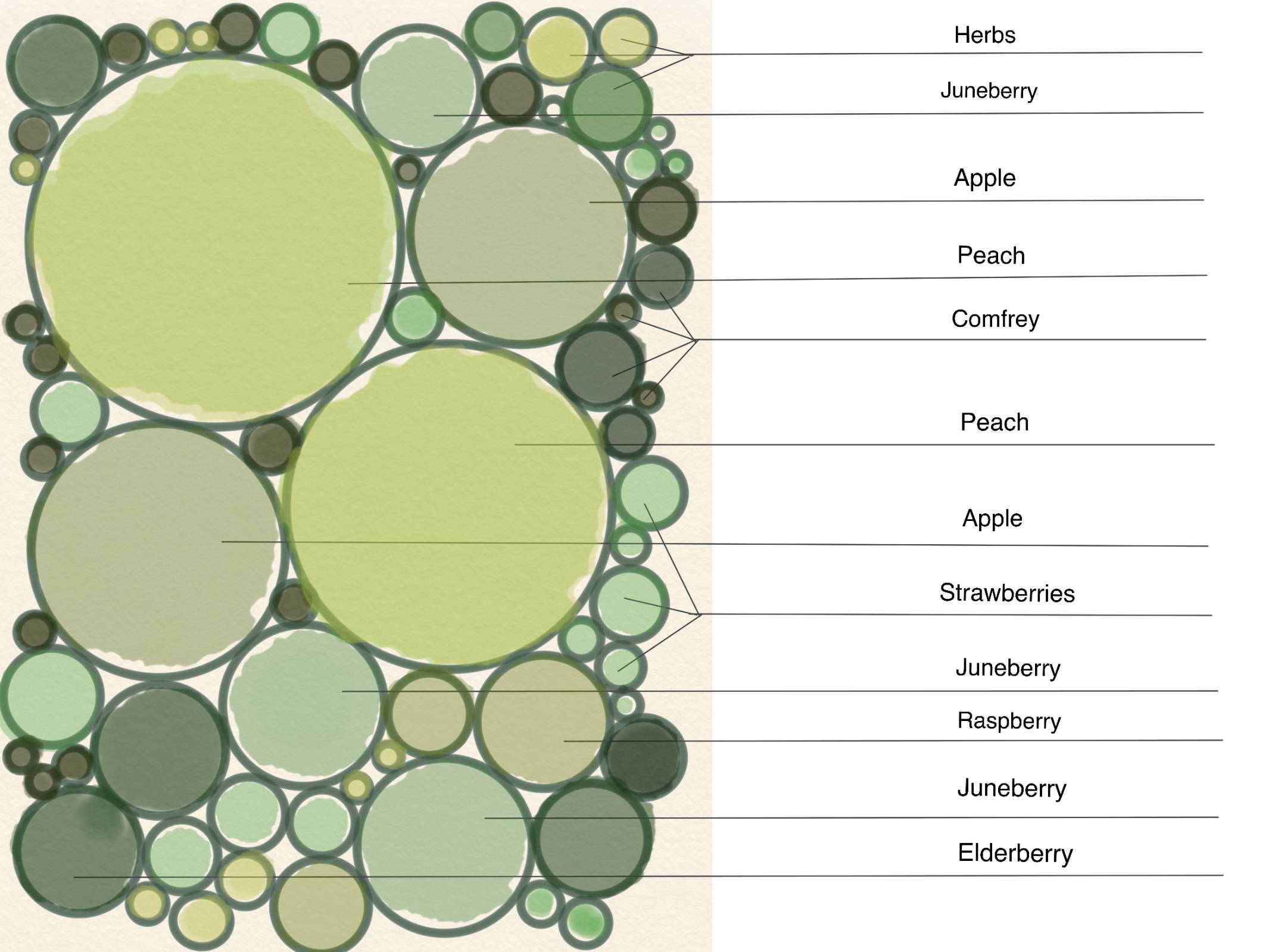 A keyhole design is an efficient design that helps to maximize space and promotes nutrient recycling. Soil can be built quickly in small spaces, therefore creating a healthy micro-ecosystem.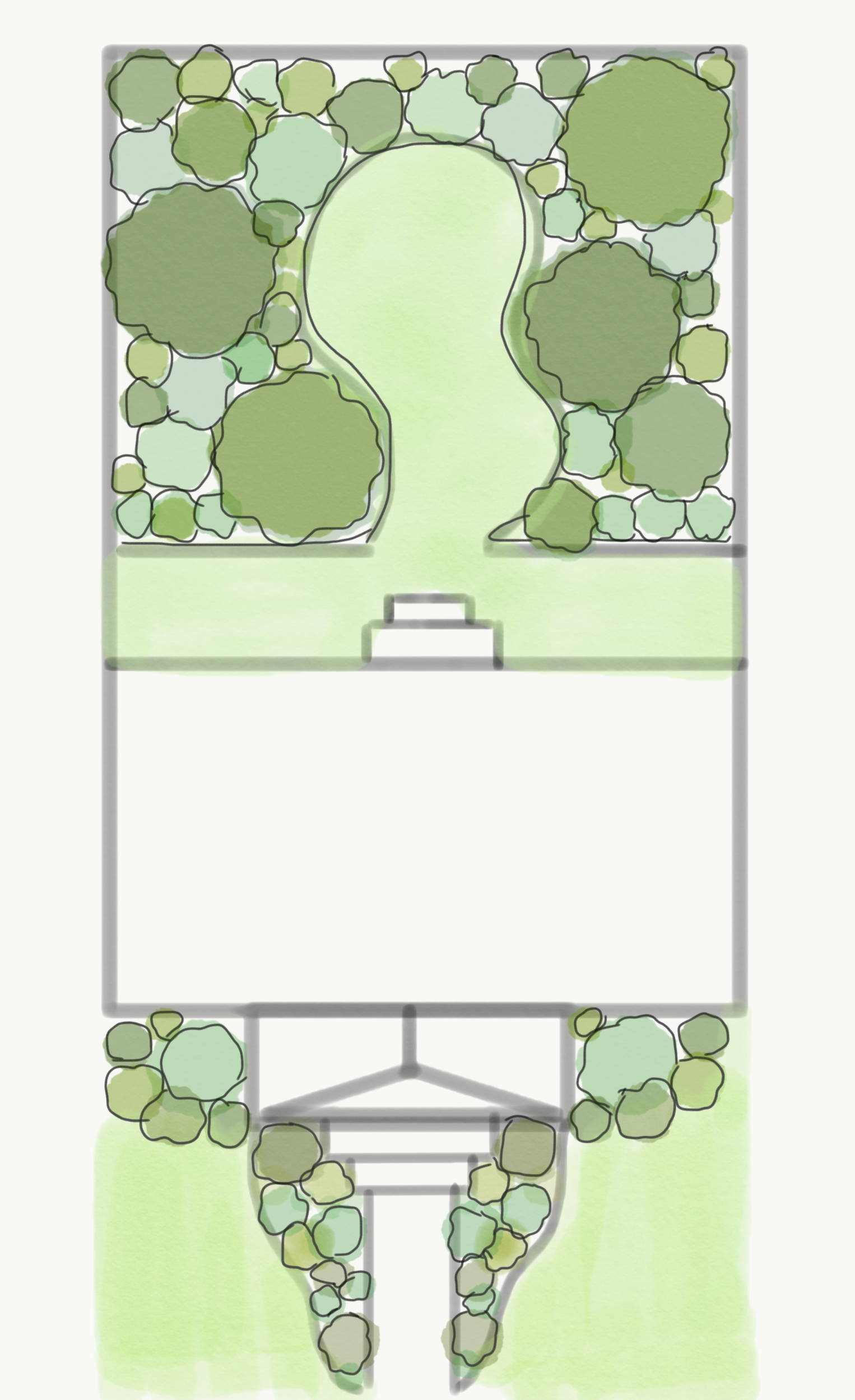 This image illustrates a conceptual design that focuses on aesthetics and symmetry. A food forest can be contained within a central circle bordered by stone or rock edging and surrounded by gravel or mulched pathways. The corners contain small triangular beds filled with dwarf trees and smaller perennial fruits. Annual and perennial vegetables can be interplanted there as well.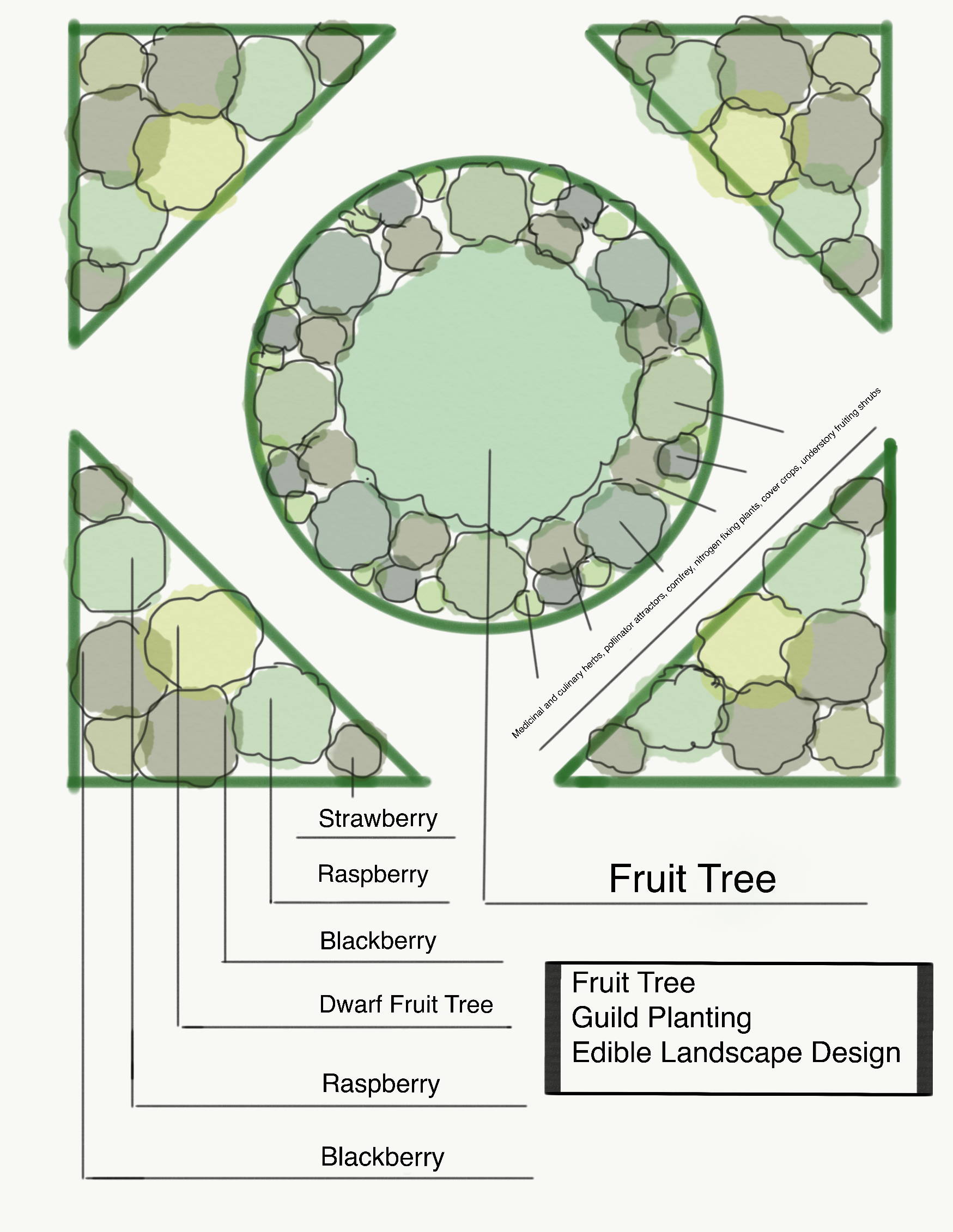 This farm-style backyard garden has mulched pathways and permanent raised beds for various fruits, vegetables, flowers, and herbs. Some can contain permanent perennial plantings while others beds grow annuals. Crop rotation can help increase soil fertility and reduce plant disease, pathogens, and pests. This cultivation style is easy to maintain and virtually weed-free if fresh soil is hauled in and there is enough mulch in the paths to suppress weeds.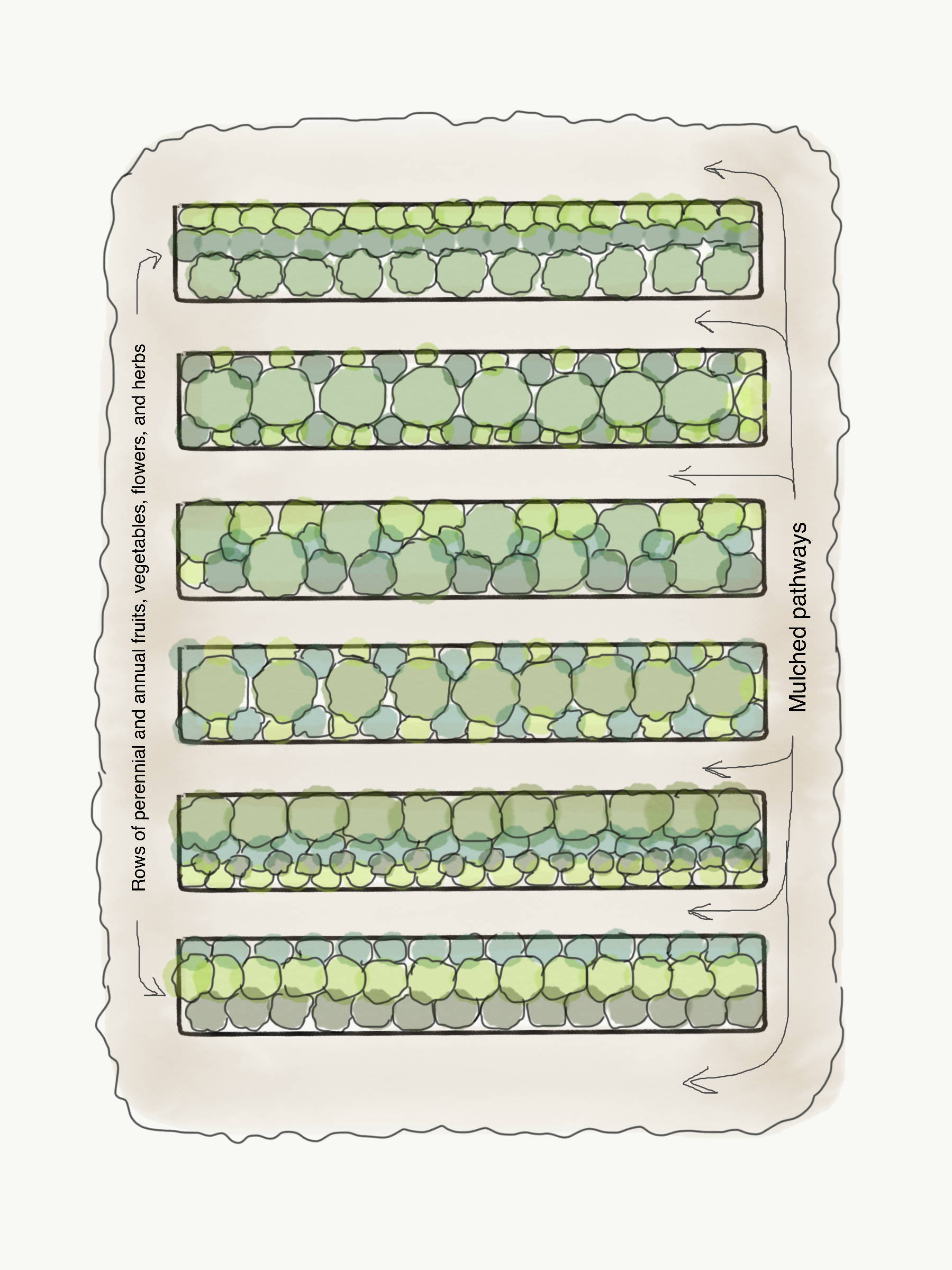 Mapping out the layout of your farm, garden, or edible landscape before starting with planting will help you achieve the overall goals of the space. Mapping out the area after planting is complete will help to track and record information over time. Detailed maps can be very helpful for crop rotation, cover crop rotation, soil health, and future planting. A topographic map of your specific location can help assess terrain, slope, water flow, low spots where water could pool, etc.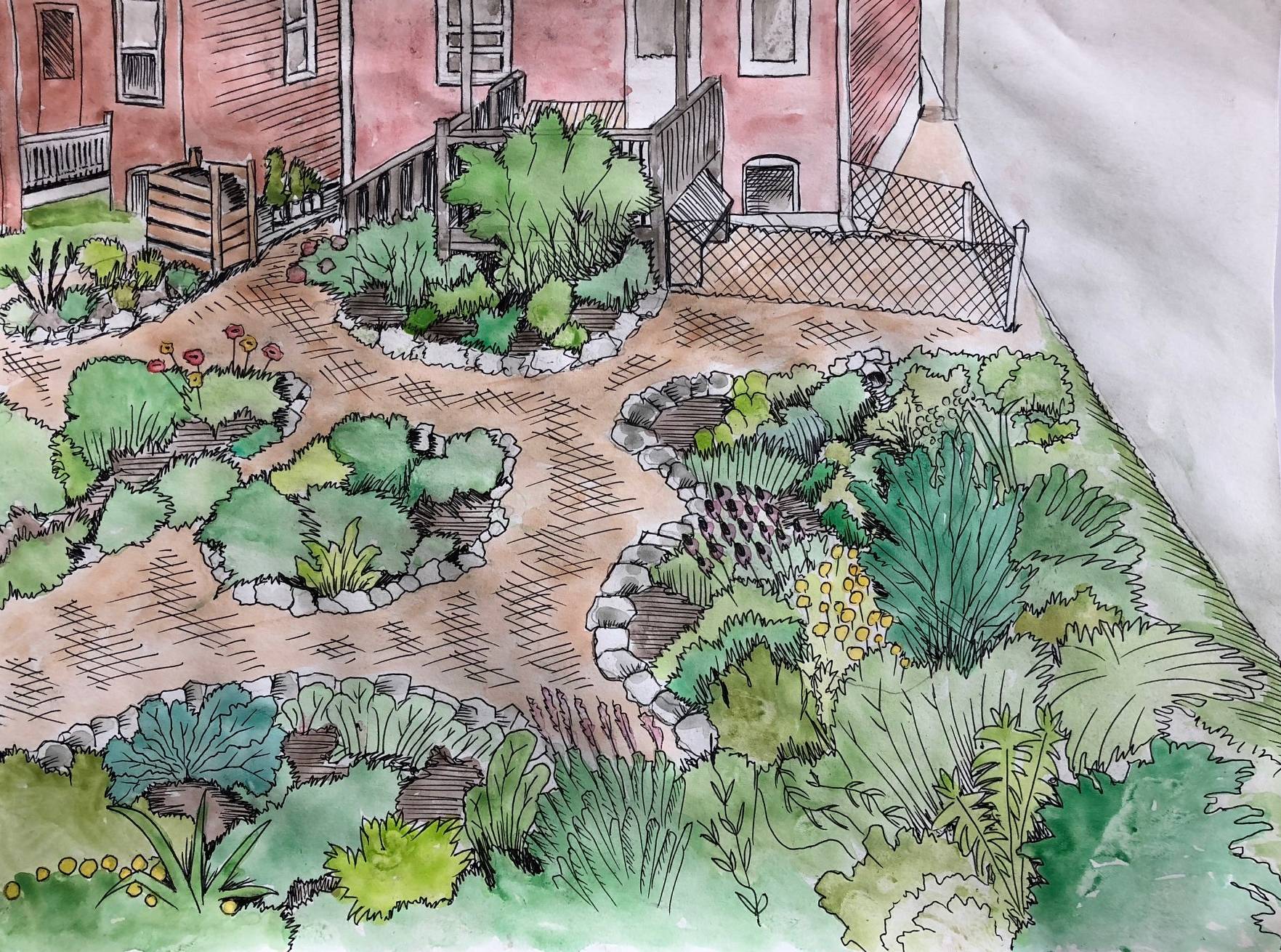 This is a beautiful rendering of Matt Lebon's backyard food forest. In his backyard, pathways are mulched; beds are lined with stones; guilds are planted with fruit trees, pollinator attractors, perennial and annual vegetables, medicinal and culinary herbs, and understory fruit-producing shrubs.
CREDIT: ARTWORK BY ERIC STEVENS.